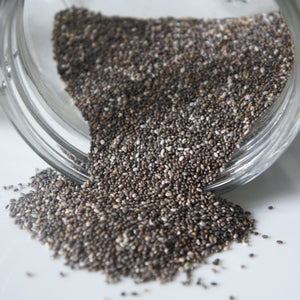 Despite only being 2mm in length, our Chia Seeds pack quite the nutritional punch. They're a rich source of Omega-3s, calcium, B vitamins, iron and fibre along with other nutrients, such things many people don't get enough of.
When soaked, these tiny little seeds absorb up to 12x their weight in liquid, forming a gel texture that makes them perfect for adding to a variety of dishes including porridge and smoothies, or for making sweet puddings out of.
We love mixing them with pureed fruit and leaving in the fridge overnight to form a jelly-like pudding that can be use for lots of things from jam on your toast to a standalone pudding for babies!
Chia seeds also make an excellent replacement for eggs in vegan baking.
Ingredients: Chia Seeds
Allergen Information: Packed on premises that handle gluten, tree nuts, sesame, soya, peanuts.
Nutritional Information: 
Typical Nutrient Values:

Amount per 100g:

Amount per serving
(30g)

% Reference intake (RI) per serving

Energy

2052kj/490kcal

616.21kj/147kcal

7.35%

Fat

30.8g

9.24g

13.21%

of which saturates

3.2g

0.96g

4.80%

Carbohydrate

43.8g

13.15g

5.05%

of which sugars

0g

–

–

Fibre

37.7g

11.32g

–

Protein

15.6g

4.68g

9.36%

Salt

19.0mg

5.70mg

0.23%

Typical Vitamin/ Mineral Values:

Amount per 100g:

Amount per serving
(30g)

% Reference intake (RI) per serving

Calcium

631mg

189.49mg

23.69%

Manganese

2.2mg

0.66mg

33.03%

Phosphorus

948mg

284.68mg

40.67%

Zinc

3.5mg

1.05mg

10.51%

Omega 3

17553mg

5271mg

Omega 6

5785mg

1737mg