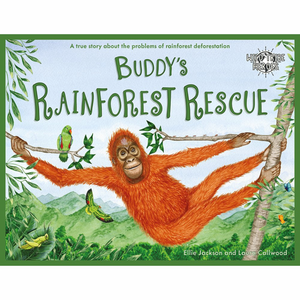 Signed by the author!
These wonderful children's books are an excellent way to educate and inspire the younger generation in protecting our planet and wildlife. 
Buddy's Rainforest Rescue sends you on a lively rainforest adventure amongst the trees, vines, colourful birds and insects Buddy the orangutan calls home. Brave Buddy gets more than he bargained for when he battles the noisy yellow creatures destroying his home.

The Wild Tribe Heroes books have received personal letters of congratulations from Sir David Attenborough and Prince Charles, both of whom are extremely concerned about the issue of ocean plastics and doing everything they can to help raise awareness. The books have been featured on the BBC, in The Guardian, Mail on Sunday and Huffington Post as well as numerous local newspapers, radio and TV and also featured in international podcasts, blogs and press.