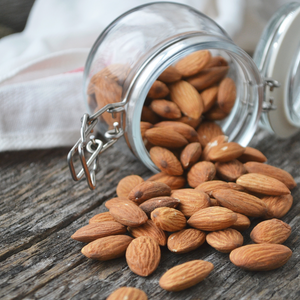 We love Almonds for their amazing health benefits, and we think getting them plastic free improves their flavour as well as their environmental impact.
We love almonds for lots of reasons:
Good for your heart: almonds are packed with monounsaturated fats, which are known to promote heart health by reducing bad cholesterol levels.
Nutrient-Rich: a nutritional powerhouse, almonds contain essential vitamins and minerals like vitamin E, magnesium, and calcium that support overall well-being.
Help with Weight Management: almonds are a fantastic snack option for those looking to maintain a healthy weight. They're high in fibre and protein, helping you feel full and satisfied.
Antioxidant Boost: a natural source of antioxidants which play a vital role in protecting your cells from oxidative damage.
Versatility: enjoy them straight out of the bag, sprinkled on your salads, cereals, or yogurt, or incorporate into your baking and cooking for added flavour and nutrition.
We believe in reducing our environmental footprint. That's why our almonds come in plastic-free, eco-friendly packaging. By choosing to purchase your almonds from us, you're making a small change that has a big impact on the planet.