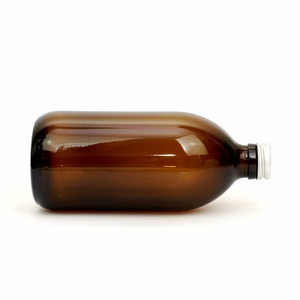 These amber glass bottles are made from recycled glass with aluminium screw lids. Glass and aluminium are infinitely reusable and/or recyclable making them one of the best, eco friendly and sustainable options out there! They won't leach microplastics into the contents of your jar or into the environment, and are endlessly refillable helping you reduce your plastic waste. 

These are the perfect size for storing your shampoo, conditioner, body wash and body lotions. Also great for making up homemade gifts in, such as homemade body oils, creams or drinks! Use as they are or purchase a pump or spray to make the bottle complete!
The amber glass offers UV protection, which some ingredients can be sensitive to leading to their degradation and loss of effectiveness more quickly. This can more obvious for skincare and medicinal products.

We love these because:

Made from recycled glass and aluminium

Refillable

Infinitely recyclable
Multi-purpose
UV protection
Sustainable and non-leaching
Secure lid for no leaks or spillage
Perfect for zero waste living!

Size: 500ml