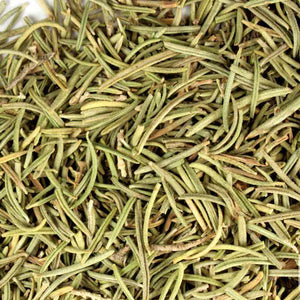 Organic Dried Rosemary is a lovely fragrant herb with evergreen, needle-like leaves which are harvested and dried naturally. It goes really well with a variety of meat and plant-based dishes, making it an essential herb in any kitchen.
Ingredients: Organic Rosemary
Origin: Morocco
Allergen Information: Packed on premises that handle gluten, tree nuts, sesame, soya, peanuts.
Nutritional Information:
Typical Nutrient Values:

Amount per 100g:

% Reference intake (RI) per 100g

Amount per serving
(3g)

% Reference intake (RI) per serving

Energy

1386kj/331kcal

16.55%

45kj/11kcal

0.55%

Fat

15.2g

21.71%

0.5g

0.07%

of which saturates

7.4g

37%

0.2g

1%

Carbohydrate

64.1g

24.65%

2.1g

0.80%

of which sugars

0g

–

0g

–

Fibre

42.6g

–

1.4g

–

Protein

4.9g

9.8%

0.2g

0.40%

Salt

50mg

2.08%

1.6g

0.07%

Typical Vitamin/ Mineral Values:

Amount per 100g:

% Reference intake (RI) per 100g

Amount per serving
(3g)

% Reference intake (RI) per serving

Vitamin A

3128IU

235.54%

102IU

7.68%

Pyridoxine (B6)

1.7mg

121.43%

0.1mg

7.14%

Folate

307mcg

153.50%

10mcg

5%

Calcium

1280mg

160%

41.6mg

5.20%

Iron

29.2mg

208.57%

1mg

7.14%

Magnesium

220mg

58.67%

7.1mg

1.89%

Potassium

955mg

47.75%

31mg

1.55%

Zinc

3.2mg

32%

0.1mg

1%

Manganese

1.9mg

95%

0.1mg

5%