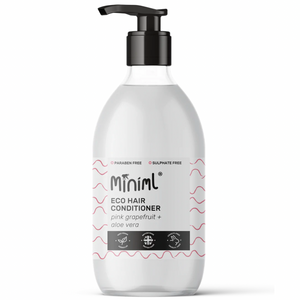 Enriched with Pink Grapefruit and Aloe Vera, our lightweight, sulphate free Hair Conditioner gently soothes the scalp and deeply nourishes hair leaving it softer and shinier for longer.
Great for those with coloured hair too as it contains no sulphates i.e. SLS, SLES, ALS etc.
Our formulation is also Curl Friendly for all our curly-haired customers :)
PRODUCT FEATURES

Naturally keeps hair softer and fizz-free.
Gentle on sensitive scalps and skin.
Minimises damage and breakage.
Curl Friendly/ Curly Hair Approved
Eco-Friendly and Readily Biodegradable.

Natural and subtle pink grapefruit fragrance.
Vegan, Cruelty-Free and British Made.
Free from: VOC's, chlorine bleaches, solvents, lanolin, sulphates, parabens and phosphates
Safe for septic tanks if used as directed.
Effective in both hard and soft water.
Made in Yorkshire, UK
INSTRUCTIONS FOR USE

Following cleaning your hair with our matching Eco Hair Shampoo, squirt onto hands and work through wet hair. Rinse after leaving in hair for 2 minutes.
AREAS OF USAGE

INGREDIENTS
Aqua**, Cetearyl Alcohol*, Cetrimonium Chloride*, Citric Acid*, Glycerine*, Sodium Benzoate*, Potassium Sorbate*, Polysorbate 20*, Parfum. *Denotes plant or mineral origin. **Water from The Yorkshire