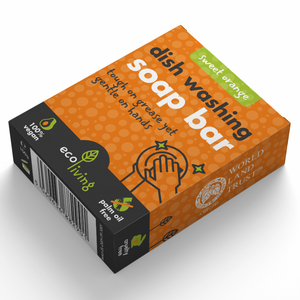 Tough on grease yet gentle on hands, why not give this alternative to washing-up liquid a try - it's basically soap for your dishes, how genius is that?! It's Sweet Orange scent will leave you feeling happy, especially as it makes such easy work of washing up!
As it's a solid bar it requires no plastic packaging and is made from all natural ingredients, unlike many washing up products that are full of toxins. Because it's 100% natural it's gentle on your skin, particularly great if you suffer from sensitive skin, eczema or psoriasis. It's also gentle on the environment and won't harm marine life when washed down the sink and released to the waterways. 

To use, simply take a damp sponge/dish brush/loofah and work into the bar, then scrub away! To keep the sink area tidy, rest your bar on a soap ladder to allow it to dry out properly between uses prolonging it's life.
We love this because it's:
Plastic free
Toxin free
Made from all natural ingredients
Handmade in the UK
Palm oil free
Hypoallergenic
Vegan
Cruelty free
Minimal packaging
Size: 100g
Ingredients: >30% Soap, Parfum (Citral, Limonene), >5% Anionic Surfactants - natyrally derived from coconut oil and citric acid.

Caution: Avoid contact with eyes. If contact occurs, rinse thoroughly with clean water. If irritation occurs stop use.