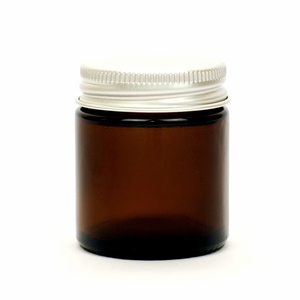 These amber glass jars are made from recycled glass with aluminium screw lids. Glass and aluminium are infinitely reusable and/or recyclable making them one of the best, eco friendly and sustainable options out there! They won't leach microplastics into the contents of your jar or into the environment, and are endlessly refillable helping you reduce your plastic waste. 
Did you know that amber jars also provide UV protection for their contents? This is important because content components can sometimes be affected by UV rays, so is especially helpful for skincare and medicinal products!

We find these are the perfect size for storing herbs and spices, face creams or toothpaste tablets!

We love these because:

Made from recycled glass and aluminium

Refillable

Infinitely recyclable
Block UV rays to protect contents
Multi-purpose
Sustainable and non-leaching
Secure lid for no leaks or spillage
Perfect for zero waste living!

Size: 60ml