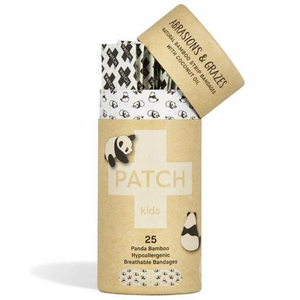 These natural bamboo plasters have been made from 100% organic, sustainably sourced bamboo fibre that can be home composted. They're hypoallergenic and free from irritating chemicals as well as plastic, latex and parabens. The super cute panda design makes them particularly appealing to kids and the natural gauze has been embedded with soothing coconut oil to promote wound recovery while providing long lasting support for sensitive skin.
We love these because they're:
100% organic
Organic Bamboo Fibre
Sustainably sourced
Home compostable
No irritating chemicals
Hypoallergenic
Cruelty Free
Vegan
Plastic, Silicone, Latex & Paraben Free
Suitable for sensitive skin
Cute design, perfect for kids
This pack of 25 plasters has been designed to easily adhere while being made from biodegradable and eco-friendly materials, which are hypoallergenic using a pressure sensitive adhesive. The hypoallergenic adhesive makes these plasters perfect for sensitive skin, while conventional plasters can cause irritation and even worsen the wounds. 
Instead of using harmful chemicals, natural minerals and nanotechnology are used to make a gentle and kind adhesive. These plasters are compostable in your home so you don't need to throw them away and send them to landfill. Overall, they're the perfect treatment for all those tricky little cuts and abrasions.
Box Dimensions:
Size - 120mm × 55mm× 55mm
Weight - 52g
Plaster dimensions
85mm x 19mm, Gauze length 12.4mm