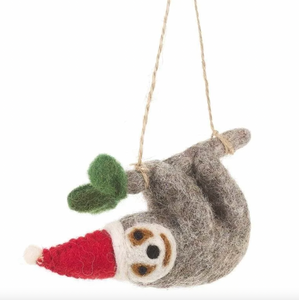 If you watch very, very carefully you might see our sloth do a few acrobatic tricks on his hanging branch or more likely, you'll doze off waiting for it to happen. We love him anyway, especially now he's wearing his new felt Christmas hat. How festive! Made using sustainable materials and traditional needle felting techniques.

Dimensions: 8cm
Material: 100% wool and wire antlers
Suitable from: 3 years
Manufacturing: Handmade needle felted. 
About Felt So Good: 
Designed in the UK and ethically produced in Nepal, Felt So Good specialise in handcrafted, eco-friendly, biodegradable characters and decorations that are bursting with personality and unlike anything else on the market! The underlying ethos of Felt So Good is to practice and promote the importance of Fair Trade and sustainability. Every product purchased enables our team of artisans in Nepal to live an independent life with access to safe, secure employment at a fair rate of pay. Every product has been handcrafted using traditional needle felting techniques from natural, sustainable and biodegradable products - absolutely no plastic here!