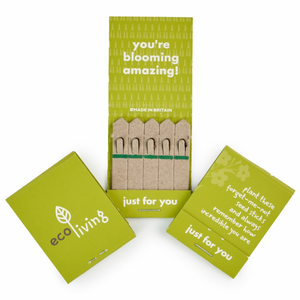 Grow a garden from a matchbook!  Forget-Me-Not seed sticks, a perfect gift to add to a greetings card or to tell your loved ones how 'Blooming Amazing They Are'!
Looks just like a matchbook, but each match contains a seed that will grow when planted in soil. A zero waste gift that your loved ones can grow in their garden or windowsill! These UK native forget-me-not seeds are also great to encourage and feed bees as well as other pollinators. 
Each stick is torn from the matchbook and planted – there is a depth line showing how deep to plant the Seedsticks. The tab has been designed to protect the seeds and allow for a successful germination.
Made in the UK from 100% recycled paper and compostable soy and vegetable ink. Seed and growing instructions are included. 
Instructions:
Seeds germinate in 14-21 days
Break off a Seedstick
Push the pointed end into soil up to the depth line and water
Leave the stick in position as your new plant grows
Size of matchbook: 38mm (w) x 47mm (h)