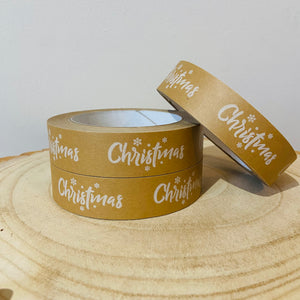 This beautiful design suits a variety of events and will jazz up any present. This self adhesive kraft paper parcel tape is super sticky, ensuring your present will remain well wrapped until time for opening, while also being fully recyclable! No more having to remove sticky tape from recyclable wrapping paper, it can now be recycled as one!
We love this tape because:
100% recyclable tape, environmentally-friendly paper-based solution
Self-adhesive paper tape – no water needed for activation, forms a strong, long lasting, highly adhesive bond
Strong resistance to moisture and humidity
Sticks to all carton surfaces and is 100% recyclable
Recycle with recyclable paper in the recycling bin
Each roll is 66m long and 25mm wide to wrap your presents easily.
Please note, this kraft tape is not ideal for layering – tape does not stick to itself.