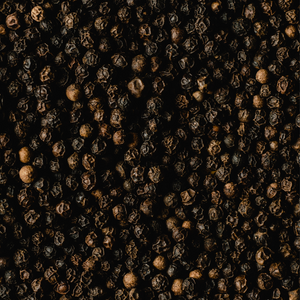 Black pepper actually comes from peppercorn, the dried berry of a flowering vine native to Southeast Asia. The pepper most of us encounter is ground, a pale shadow of the whole peppercorn, freshly ground or cooked whole. Originating along the southwestern coast of India, in the region of Kerala, black pepper (Piper nigrum) has been a commodity since ancient times. 
Piperine, the alkaloid in pepper responsible or its pungent bite, is known to stimulate the taste buds and gastric juices. In Indian ayurvedic medicine, black pepper is used to treat respiratory illnesses and colds. From a strictly nutritional standpoint, black pepper contains only trace amounts of magnesium and calcium, and is usually not eaten in enough quantity to have much of a nutritional impact, so it's mostly used for it's flavour.
Fresh black pepper is delightful on eggs and essential in mashed potatoes. It also pairs well with meats, from charcuterie and steak to chicken and fish. Next time you have a summer berries, try them with a little fresh pepper.
Transfer to an airtight container. So long as they are kept dry, sealed and away from extreme temperatures, they will last for a few years.

Ingredients: Black Peppercorns.
Allergen Information: Packed on premises that handle gluten, tree nuts, sesame, soya, peanuts.